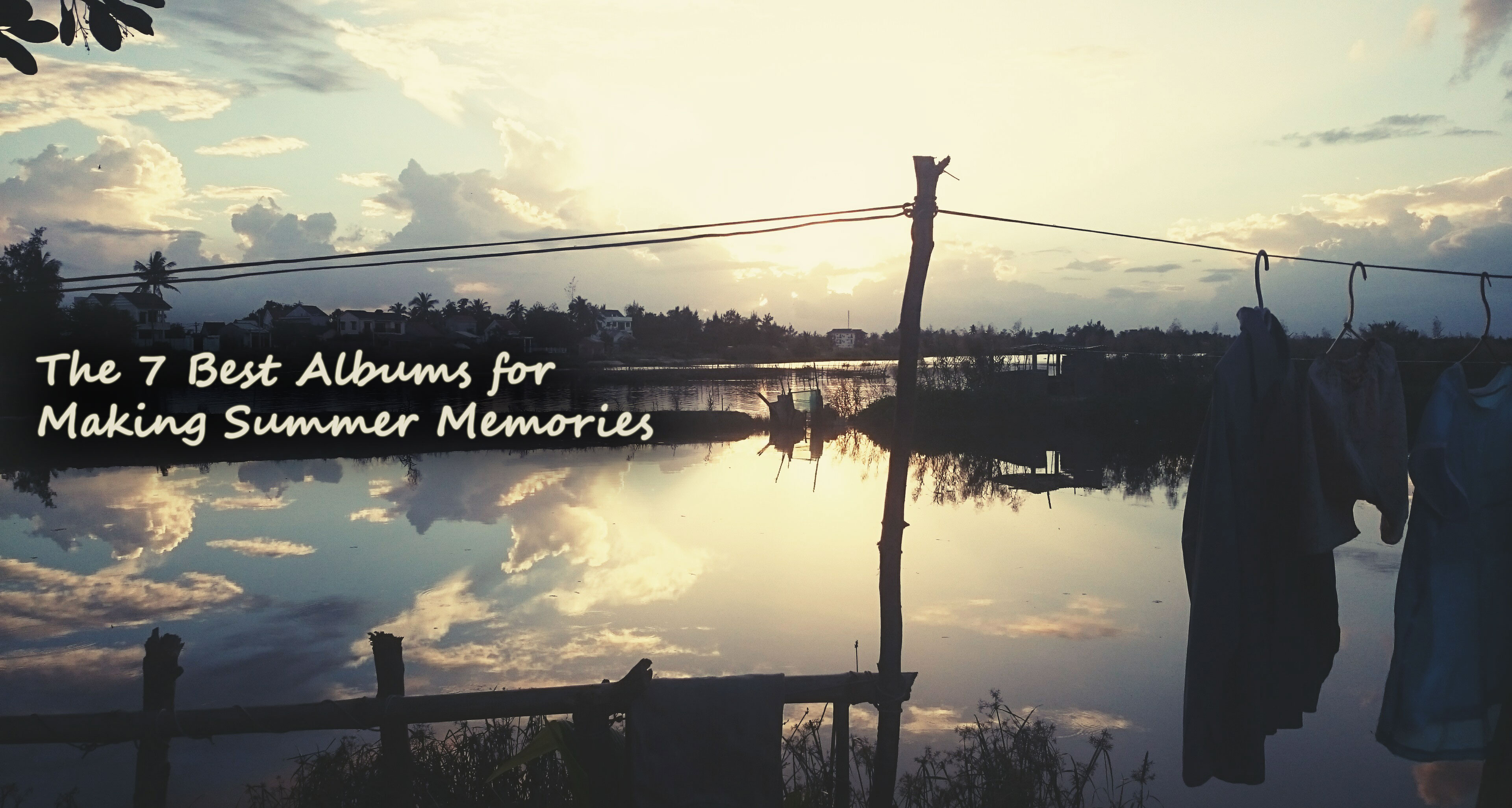 Now that the hot weather is here, your mind is probably filling with warm wonderful thoughts of summers past. Music probably plays a huge part in those memories. When you hear a certain song you can remember exactly where you were and who you were with.
Music is always present in our lives, but for me there is something extra comforting about correlation I have with summer and music. When I think of these two things together, only good thoughts come to mind. My mind always drifts to hanging out with friends on a warm summer night, a top a dimly lit rooftop patio. While we sit back enjoying an abundant amount of food and drinking only the finest cheap beer the store has to offer. Ridiculous and on rare occasions intelligent conversations flow throughout the night as the perfect soundtrack plays in the background. Instantly I feel happy when these moments come to mind.
Though your memories probably aren't the same as mine, I'm sure you have warm thoughts when it comes to summer time. Maybe it's hanging out at the beach with a good group of friends, sitting on the porch with your best friend talking the night away, road tripping to wherever your heart desires or hanging out around a camp fire in the middle of nowhere. No matter what your memories are, when you find yourself thinking about them, the music that was playing is probably running through your mind and it's almost as if you have found a portal back to that time.
This summer shouldn't be any different. Get out and enjoy this beautiful world we live in. Create new memories with new music. To help you, we have put together a list of some of the best albums released so far this year. Take a listen and find the perfect backdrop for your summer.

REVIEW / The debut full length album from the New Zealand band Yumi Zouma will draw you in right from the first beat. Yoncalla is dreamy synth pop mixed with breezy soothing vocals from lead singer Christie Simpson. Though the album won't change your life, it will make you feel good as it flows seamlessly from song to song. You will find that this collection of laid back songs will soon become one of your favorite albums to throw on in the background, during those hot hazy days of summer.
WHEN TO LISTEN / Perfect for a day in the park with your friends. Whether you're having a picnic or playing Frisbee, Yoncalla will only enhance the warm feelings you get during these wistful sunny days.
LISTEN HERE / Sterogum Stream

REVIEW / Case/Lang/Veirs is the first collaboration between Neko Case, K.D Lang and Laura Veirs. Each one of these women have had long and impressive careers in the music industry. It's not surprising that when Lang approached the other two women with this idea, they replied almost instantly with an astounding "Yes!" They do not disappoint with this album, making this one of the best collaborations to happen in a long time. Each woman takes their turn at the lead throughout the album and they beautifully harmonize on the backup vocals when needed. The lyrics are rich and reflective, taking us on an emotional journey from beginning to end. Case, Lang and Veirs never let their egos take over during the making of this album and it shows. While all the songs may not be gold, teaming up was a great idea as they have ended up with an outstanding finished product.
WHEN TO LISTEN / Take this album with you the next time you head out for a weekend of camping in the Mountains. Sitting around a campfire and taking in the beautiful night sky would be the ideal way to experience this album.
LISTEN HERE / FreeShippingCode Playlist

REVIEW / I may be a bit biased with Stranger to Stranger, as my admiration for Paul Simon runs deep and I tend to love anything he does. This is one of Simon's best albums since the release of Graceland in 1986. Thirty years later he is proving once again why so many consider him to be one the greatest American song writers of all time. In classic Simon style his songs reflect his thoughts and fears about American culture and society. His lyrics are well thought out, meaningful and even a bit dark at times. The instrumental work on this album is some of his finest. Experimenting with many different styles, he draws from his past influences while showing he understands modern music by using samples and loops throughout the album. This combination of perfected lyrics and deep instrumental understanding have ended in an extremely listenable album with a unique sound that only Paul Simon can deliver.
WHEN TO LISTEN / This would be a great album to take on a long road trip with a friend. Its upbeat songs will keep you moving, while the slower songs will make you feel like you're drifting along the highway. Trying to understand the message behind Simon's lyrics could also make for interesting conversation.
LISTEN HERE / FreeShippingCode Playlist

REVIEW / New View is Friedberger's third solo album, containing some of her best work to date. Her previous work was impressive, but was only scratching the surface when it came to her ability to express herself through music. New View picks up from there and gives us what we were looking for, as she seems more at home with herself this time around. Friedberger delves deeper into her emotions and exposes her vulnerability in this thoughtfully warm look into her life and romantic experiences. Friedberger writes very relatable songs, which why this album is so brilliant and a must listen.
WHEN TO LISTEN / Start your Sunday morning right by waking up early and throwing on New View. Then head out to your porch or balcony with a hot pot of tea accompanying you, as you curl up in your favorite chair and bask in the morning sunshine.
LISTEN HERE / FreeShippingCode_YouTube

REVIEW / Greta Kline is just 22 years old, but has been making music since she was a teen. She released song sketches online that were very well received, even gaining a cult following because of them. In 2014 under the name Frankie Cosmos she released her first full album Zentropy. Now she is back with her second album Next Thing. Kline doesn't shy away from singing about her personal experiences with this one. As the album unfolds, it seems almost as though we are getting little glimpses into her personal journal. The album plays out with 15 short songs over 30 minutes, seeming like there isn't enough time for you to really get to know her as an artist. Somehow she pulls it off, incasing her doubts and fears as she transitions into adulthood in one brilliantly laid back album.
WHEN TO LISTEN / Grab your gear and head out for a day at the beach. Make sure you find the perfect spot to lay down and watch the people roll by as the blistering sun glistens off the water. This breezy album will be the perfect soundtrack for you day at the beach,
LISTEN HERE / FreeShippingCode_YouTube

REVIEW / Robert Ellis is an artist with a style that is quite hard to define. He doesn't really fit into one perfect musical box. His music stretches across so many genres'; classic country to folk, synth, pop rock, bluegrass and even jazz. The one thing we can say about Ellis with utmost certainly is that he is an excellent singer song writer. He has the ability to tell stories with such beauty and ease. His new album is a reflection that tells tales of breakups and the perils that follow. While Ellis is recently divorced, his songs aren't a word for word representation of what happened to him. He prefers a more open vague approach to song writing, allowing for the listeners to make their own interpretation of the lyrics. He believes that this will make the listener feel more of an emotional attachment to what he has to say. Ellis has most certainly achieved this with this album. As you listen you will start to see and feel yourself in the stories that he has so wonderfully laid out for you.
WHEN TO LISTEN / Bring this album out for a relaxing evening with a close companion. We suggest driving out to the middle of nowhere and playing this while you do some star gazing on the hood of your car.
LISTEN HERE / FreeShippingCode Playlist

REVIEW / At 28 Morby is still very young, but he has a lot of experience under his belt. He spent several years in bands like Woods and The Babies. He eventually left them behind in 2013 to pursue a solo career. On his third solo album Singing Saw we see an advancement in Morby's musical interest. He has added trumpets, saxophones, strings, gospel singers and a full backing band. These new additions and Morby's ability to arrange and write a deep meaningful song, has resulted in a complete album that is rich from beginning to end. Each time you listen to this album you will hear something new and find yourself gravitating towards it more frequently.
WHEN TO LISTEN / Play this as your hanging out and having a rooftop barbeque with a good group of friends. This album will make for great background music. It's soulful folk vibe will have your head subtly bobbing as you engage in conversation.
LISTEN HERE / Sterogum Stream