Singapore is a fantastic travel destination.
But still it can be confusing what are the things to do there, especially if you visit the country for the first time.
So I asked some incredible bloggers in Singapore about what are the top things to do there.
All the responses I received from these bloggers, were nothing sort of amazing.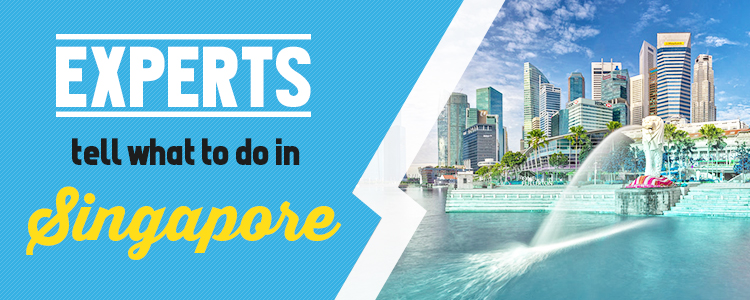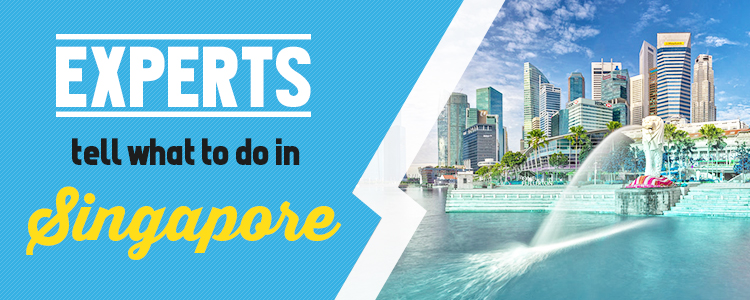 Here is a word to word copy paste of what they had to say.
Off the top of my head, I'd say you could go
1. Cycling or Rollerblading at East Coast Park
2. Paintballing at Red Dynasty Paintball Park
3. Go barhopping around Telok Ayer Street
---
The number 1 thing to do in Singapore is to visit one of our hawker centres, all of which sells our tasty local delicacies at affordable prices. As Singapore is a melting pot of cultures, one of the best ways to experience that is through our food. I would highly recommend hawker centres such as Maxwell, Hong Lim and Tiong Bahru Food Centres. For Maxwell Food Centre, a visitor can try the signature Hainanese Chicken Rice from Tian Tian (which got even more popular after it won a Gordon Ramsey challenge), Shanghai style dumplings, Cantonese congee and fried fish soup is rich milky broth. After that, Chinatown is but a short stroll away.
---
Here are my answers
1. For art lovers, a visit to the Esplanade is a must!
Head there for free concerts, exhibitions or check out the art library stocked with a chockablock full of art, music and theater books.
2. Singapore is not known as a food paradise for nothing. A visit to the Hawker Centers is as local as as one can get. I highly recommend the Maxwell or Chomp Chomp Hawker Centers. If you want a little more luxurious setting, Keong Saik road offers a variety of hidden gems. From French to Italian to out=r very own Nasi Padang, you are sure to find something delicious down that road.
3. Lastly, Singapore has various islands off the mainland and one of my favorites is Palau Ubin which means Island Ubin in Malay.
A short 15 minutes boat ride away from Changi Village and you will fond yourself in a completely different land with its lush secondary forest and wildlife. Rent a bicycle and explore the beauty of the mangrove there and have a delicious coconut drink while you are there.
---
1. Cheap Shopping
If you love shopping but on a travel budget and you do not wish to burn a deep hole in your pocket, explore places like Changi City Point, AnchorPoint and Bugis Village where you get to shop top brands at a fraction of the actual price. They have various outlet stores to satisfy your shopping needs.
2. Non-stop Eating of Delish Meals
There are numerous places in Singapore that sell uniquely Singapore dishes. Taste dishes that you can only find in Singapore at Lau Pat Sa, Newton Food Center, Changi Village or even neighboring hawker centres and food courts. You are sure to be captivated and have your taste-buds satisfied.
3. Visit Nature Reserves to get Rejuvenated
Singapore is known as the garden city for a reason. Other than living a city life in Singapore, get into the woods and be amazed by the nature and living creatures you can get to see on this tiny island country, and most important of all, it is free! Try out Sungei Buloh Wetland Reserve, Labrador Nature Reserve, MacRitchie Nature Rail, Singapore Botanic Gardens etc. A great getaway from the crowded, busy lifestyle and inhale fresh air!
---
1. Eat -- Singapore is known as Asia's Food Central. Aside from the wide-array of local food that goes as far back as 50+ years ago, there's also a good mix of international cuisines to choose from. I'd be bold in saying that there's no bad meal in Singapore as you'll surely feel satisfied after each meal.
2. Enjoy the Sights -- there's nothing more relaxing than hanging out by the Singapore river (which I think is one of the cleanest in the world) and to enjoy the view of the ferry boats passing by, the people around and the beautiful cityscape too. My tip is to grab a cone of Hokkaido Ice Cream from Azabu Sabo at The Central mall in Clarke Quay and hang out by the riverside while enjoying this.
3. Get Hipster -- Singapore's cafe scene is booming so why not cafe-hop? The good thing with most of our local cafes is that they don't only offer good coffee but the food is something you have to try too. I highly recommend Artistry in Bugis, On the Table in Pasir Panjang, Drury Lane along Tanjong Pagar Road and The Lokal in Neil Road.
That's about it.
---
Whilst I certainly do not consider myself an "expert" in this field, here's my humble input:
1. Singapore is excellent for staycations - from hotels in town, to our Resorts World Sentosa (where we have our Universal Studios - MUST VISIT), there's never a lack of choices for a nice room to rest your head at the end of an enjoyable day. Especially for us locals, who may not have much time or budget for an elaborate travel itinerary, the option of putting up at a luxurious haven over the weekend is a fitting way to recharge;
2. We may be famous for our good local food, but there's also something special that visitors can hit up at our Resorts World Sentosa - such as Iron Chef Cat Cora's Ocean Restaurant situated right within our S.E.A. Aquarium, which offers a stunning view of some of the most beautiful marine creatures. A truly amazing and magical experience!;
3. Another attraction to visit would be our Singapore Flyer, which offers a splendid view of the island from the top of our little world. For valuable insight into an aspect of our local culture, one may consider visiting The Intan, a carefully-curated Peranakan treasure trove sure to delight anyone with a keen eye for quaint cultural detail.
---
In Singapore, you are in one of the world's top eating destinations, so good local food is a must! You have to try Singapore's chili crab. It's Singapore's unofficial national dish. All seafood restaurants have their version of it - crabs chopped in large pieces and bathed in a thick savory and spicy gravy. Every restaurant have their own secret recipe, so they all taste slightly different. All with their own loyal following. Chicken rice is found everywhere in Singapore and is the favorite dish of many locals. The best chicken is poached till tender and juicy, and bathed in an aromatic savory sweet sauce. The rice is cooked in chicken stock, pandan leaves and lemon grass so it has gentle savory sweet flavours and alluring aroma. The dish is completed by fresh chili and ginger sauce. Bak Kut Teh (pork bone tea) is another popular dish and the peppery Teochew style is created here and unique to Singapore. The best are those made with large prime rib and simply cooked in a broth of garlic and pepper. They are cooked till the tender meat falls off the bone with just a gentle tuck with the teeth. It is best enjoyed with Chinese black tea, hence the name "pork bone tea".
---
Singapore is a very small country but in no way does this little red dot on the map stinge on the fun! Food should be top of your itinerary. Skip the fancy restaurants and enjoy local flavors and culture in hawker centers and food courts. Try Beach Road Hawker Center as it offers a wide variety of food choices and is located in Bugis, one of Singapore's most colorful regions. From there, you can easily walk to Arab Street—the real magic happens along the smaller streets, alleys and lanes! Don't forget to visit Haji Lane, the famous artsy shopping street. Spot the colorful murals and don't forget to take a travel #selfie!
---
1. We are the Glutton family and naturally what else can be more important than hunting for good food in Singapore. When come to the weekend, the first conversation strike us is none other than where to eat for breakfast, lunch and dinner, it is becoming a standard protocol within the family.
2. Travel and Shopping are seem to be the common hobbies for Singaporean but we prefer to spend the time cycling at the Pasir Ris Park or bowling alley for some quality time together.
3. Cooking and Baking are not bad the ideas when staying at home, we spent lots of time and money doing research and development on new recipes and what are the best kitchen essentials, some discoveries that actually sent us to the cloud nine."
---
1. EAT local dishes!
Tourists in Singapore have to try out hawker food like Laksa (Katong Laksa), Hainanese Chicken Rice(Five Star Chicken Rice/Boon Tong Kee or Maxwell Hawker Centre), Char Kway Teow (Old Airport Road Hawker Centre), Hokkien Mee(Newton or Maxwell Hawker), Rojak(Newton Hawker), Sambal Stingray & Chilli/Pepper Crab(East Coast Lagoon or No Signboard Restaurant). People living overseas (especially in Western countries) would have only heard of Singapore fried rice or Singapore fried noodles which doesn't exist in Singapore and probably created by Asians who opened those restaurants to make their dishes sound exotic.
2. Singapore Zoo & Night Safari:
I take pride that Singapore has one of the best Zoos I've seen in the world. With plenty of big open spaces for the animals and natural habitats created for them. Being a nature and animal person, I've always enjoyed these 2 places since I was a child. And after so many years it's still extremely well kept and constantly updated to keep the animals happy. It's worth a visit for all tourists!
3. Gardens by the Bay:
Singapore promotes itself as being "clean and green". With the beautiful city centre garden like Central Park but in a bigger scale with exotic plants from all over the world all visible in this big and uniquely landscapes garden. Even I as a local am impressed by this man made garden and enjoy heading there every once in a while with friends and family. Tourists who have a few days here should definitely drop by and enjoy this forest in the city.
---
1. Try our food!
I'm sure this is one of the few things everyone would recommend a tourist to do in Singapore - we truly are a food paradise! We have a wide range of cuisines available at really low prices! Kick it like the locals & eat at our hawker centers, which can be found all over the island.
2. See the nightlife!
Stay away from the touristy area of Clarke Quay, which fair enough, has many bars, pubs & clubs to offer, but is honestly not where locals go to. Clubs popular with locals include Bang Bang & Zouk, which has been named one of the top 10 clubs worldwide.
3. Check out our beaches!
While our beaches can't compare to some of our Southeast Asian counterparts, it's nice to see a different side of Singaporeans away from the hustle & bustle of the business district! At East Coast park cycling & rollerblading are popular options, while you'll also spot many families holding a beach side BBQ at one of the rental pits. And as always, you can find big hawker centers here as well!
---
1. Visit our hawker centers for a smorgasbord of local delights
Eating counts as one of the top national past times we engage in as a nation and the best way to "eat up" a country is through its hawker centers dotted around the island. Each hawker center features a selection of favourites and find the best dish in any hawker center judging by the length of queues - remember, one of our favourite past times include queueing for good food, limited edition items and well...you get the spirit of kiasu.
Want to eat like a local? Take on the following in order of our local preferences
Breakfast - Kaya Toast, Chwee Kueh, Chee Cheong Fun, Kopi (Coffee with condensed milk)
Lunch - Chicken Rice, Bak Chor Mee, Char Kuay Teow, Cai Png (rice with a selection of dishes)
Recommended hawker centers (off the beaten and touristy track):
Amoy Street Hawker Center (Nearest Mrt: Tanjong Pagar), Chinatown Complex Food Center (Nearest Mrt: Outram), Feng Shan Market Food Center (Nearest Mrt: Bedok)
2. Eat icecream like a local (by the roadside!)
This, makes me proud to be Singaporean - I have never seen another country whose country men eat icecream by the roadside with a slab of icecream sandwiched between two wafers or rainbow coloured bread. Sold by an elderly uncle who can barely speak enough English himself but in the kingdom of icecream, pointing to your preferred flavour is all you need to know. $1.20 of happiness used to cost under a $1 and your best bet is along Orchard Road.
Oh yes, go for the yam flavour and rainbow bread - guaranteed an experience that will bring you unicorns and well rainbows kind of happiness.
3. Drop by our UNESCO Site - the ever gorgeous Botanic Gardens
While Gardens by the Bay is the most photographed gardens by tourists since 2012, my personal favourite is still Botanic Gardens for a showcase of what makes us a fine green city. Recently certified a UNESCO Site, one can find the 156-year-old tropical garden located at the fringe of the Singapore's main shopping belt - indulge in a picnic, or even a stroll in this sprawling garden before taking on Singaporeans' next best past time - shopping, along orchard road.
Orchids are our national pride and visitors can pay a fee to enter National Orchid Garden that houses 1,000 species! A number of dignitaries have gotten orchids named after them too!
---
Singapore is known for its multiple cultural traditions so I would strongly recommend places like Haji Lane, Bugis Street, Little India, Chinatown which is great for eating and shopping.
I personally like taking a train down to Plaza Singapura and shop my way down to Somerset 313 before reaching Orchard.
---
1. Singapore Botanic Gardens
The Singapore Botanic Gardens is the first and only tropical botanic garden on the UNESCO's World Heritage List. Take a stroll amidst the lush greenery or have a picnic with friends by the lake. You can also pop by Halia Restaurant (Halia means ginger in Malay) for East-meets-West cuisine and their signature ginger-infused dishes and drinks.
2. Night Safari
A visit to the Night Safari is a must as it is after all the world's first wildlife night park. I particularly love how you can get up close and personal with nocturnal animals even if you take the tram. If you are feeling adventurous, you can also try one of the walking trails. Opening hours: 7.30pm to 12 midnight.
3. Gardens By the Bay
This is where you'll find Singapore's answer to Avatar and the world's largest indoor waterfall. The futuristic design of Gardens by the Bay presents abundant photo opportunities for both Singaporeans and tourists alike. Hollywood thriller Hitman: Agent 47 was also filmed here. Need I say more?
---
1. Enjoy the tranquility of farm life, away from the hustle and bustle of the city by spending half a day (usually in the morning) exploring the quiet nature of Kranji Countryside. My top favourite thing to do there is to visit Bollywood Veggies for a sumptuous meal at their Poison Ivy bistro. The food (such as bananas and moringa plant) served at the bistro are cultivated and freshly farmed within their premises.
2. Dine out at our famous hawker centres! One of the best things about our country has definitely got to be the affordable and variety of food. You can get to taste a wide spread of our food culture at neighbourhood hawker centres such as Bedok 85 or Chomp Chomp Food Centre. Don't miss the Fried Oyster Omelette, Grilled Satary, Sambal Stingray and Sugar Cane Juice. These are the must-haves whenever we dine out with our close friends at the food centres.
3. Fun day out at Sentosa - You can allocate one full day at Sentosa to spend some time by the beach in your bathing suit, sipping on cocktails and then enjoy exhilarating activities such as The Luge, Sky Ride and Megazip. You can also relive your childhood by visiting Universal Studios Amusement Park.
---
1. Check our Haji Lane for an eclectic mix of indie fashion shops and cool cafes to people watch. Every street of Haji Lane is also Insta-worthy so make sure you dress your best.
2. Wakeboard in Punggol - Yes, you can wakeboard in the sunny island of Singapore. Grab a couple of friends, rent a boat and let the spend the rest of your day with the wind whipping through your hair.
3. Go for a run around the Marina Bay area - The best way to experience and see the sights of the iconic Marina Bay Sands and Central Business District is to run the area around it. Called the Promontory @ Marina Bay, this area immediately fronting the waterfront along Marina Boulevard is where many marathons such as the Standard Chartered Marathon and national events are held.
---
1. Visit the Gardens by the Bay. You can see the beautiful supertrees and light show for free if you're on a tight budget. There's a free children's playground too, if you've got young ones with you. And if you have a bit of cash to spare, the two domes provide an out-of-this-world experience that you will not forget.
2. Eat Chilli crab. There is nothing like it in the world!
3. Visit Sentosa. Although it is a tiny island, it is packed with so many things to do and see. One of our favourites is the Universal Studios Singapore. Fun for the whole family.
---
Singapore may be a small country, however it's jam-packed with energy. Besides the common movies night outs and shopping, there are quite a few more interesting things to do in this multiracial country. Cafe hopping has slowly increased in popularity as locals check out new hot spots and uncover hidden gems. Besides great food and drinks, the ambience usually differs from the local scene and creates a mini 'vacation' experience. If you're into fun adventures, there are a couple of themeparks that not many know about. Experience the 'flight of your life' with MegaZip Adventure Park, jump to high heights at Amped Trampoline Park or enjoy endless splashes of fun at Adventure Cove Waterpark! Last but not least, gather your friends round for some Singapore Island Hopping. Especially in the southern parts of Singapore, there are a few islands that are worth exploring. The more common ones are Pulau Ubin and St John's Island. Or if you would rather go to somewhere more unique, head to Kusu Island (also known as Tortoise Island) or Sister's Island. A tip is to find out the stories behind these islands, you'll be intrigued!
---
Singapore is known as "City in a Garden".
Besides the usual Tripadvisor hotspots like Sentosa, Universal Studios and Orchard Road,
I would recommend my friends to go to less touristy spots.
** Food ** Heartlands
Hawker Centres and Wet Markets.
If you are keen to get close to real Singaporeans, go to the heartlands (read towns example Queenstown, Ang Mo Kio)
This is where Singaporean shop and eat at neighbourhood wet markets and hawker centres respectively.
When it comes to local street food, follow the queues!
Just name any cuisines, Chinese, Malay, Indian, Japanese, Korean etc.
Every corner you turn, high rise flats (Condominiums and HDB) allow one to catch a snippet of how Singaporeans live, high up.
** Cultural ** Harmony
Singapore is small, but tourists always spot Mosques, Temples (both Indian and Chinese), and Churches side by side.
In Singapore, it is not difficult to spot tourists doing places-of-worship hopping in Chinatown :)
Little India, Chinatown, Little Arab.
It never ceases to amaze me that we can explore a little bit of each culture at every corner.
Singapore is packed with Museums too!
** Nature ** - Google Nparks or ABCwaters.
Park connecters and waterways pop up, our parks and waterways are interconnected.
Explore the nature and reservoirs. Jog, cycle, walk, scoot or paddle seamlessly.
Although Singapore does not have a hinterland, we do have a lot of greens, shades and rich biodiversity!
These "green lungs" provide urban folks respite from work and for families to enjoy the great outdoors.
Yes Singapore is small, but there are a lot of activities to keep us healthy and entertained.
And most of them are wallet friendly too.
---
1. Explore Singapore's Nature
Singapore is largely urbanised, but it's also an urban jungle -- get away from the city and take a walk in Singapore's numerous nature reserves and parks. The Singapore Botanic Gardens has recently been recognised as a UNESCO World Heritage Site, and is a great place to have a picnic in the park. The Singapore Symphony Orchestra regularly holds performances at the Botanic Gardens as well!
For something less manicured, take a hike in MacRitchie Reservoir, Sungei Buloh, or The Green Corridor, not an official park or reserve but offers a series of walks off the beaten track along Singapore's old railway line.
2. Shop at Indie Stores
I love exploring a good bookstore, looking at books and magazines. Some independent bookstores I love: Books Actually, Littered with Books and Basheer Graphic Books.
3. Eat
Singaporeans love to eat. We have a wide variety of cuisines available -- I think Singaporeans are spoilt for choice and get bored if they eat the same type of food for too long! Try out cheap and good hawker food at hawker centres like Maxwell Food Centre, to celebrity restaurants in Marina Bay Sands or enclaves like Dempsey Hill.
---
For families, I would definitely recommend the Night Safari as it offers a different experience seeing the nocturnal wildlife when the sun goes down and they are most active. You can also catch performances by the animals or take a tram ride around the zoo.
Another place I'll recommend for families is Sentosa where there is something for the whole family, from the SEA Aquarium, Trick Eye Museum, Universal Studio Singapore and not forgetting the Skyline Luge where you can zip down the luge track by day or night.
Lastly, I'll recommend having our local delicacy chili crabs at East Coast lagoon where you can have a relaxing evening strolling by the park or even cycling before dinner.
---
1. Singapore Science Centre KidsSTOP
It is designed for children up to 8 years old. Equipped with construction toys, dinosaur fossils digging, climbing structure, music room and math tools, my three young children can easily play there for at least 2 hours each time.
It also has the best pretend play kitchens we've seen, with a wide range of life-like groceries, scanners that really go "beep" and Casio cashiers!
2. Singapore Science Centre
There are hundreds of interactive exhibits covering science, technology and mathematics. Depending on how many topics you'd like to explore, you may spend a few hours to at least an entire day there.
One especially memorable exhibit is the earthquake simulator where we could stand on a living room and choose the type of earthquake experience.
My children also love the outdoor waterworks area where they can engage in waterplay.
Definitely a must-visit for anyone passionate about science.
---
1. Marina Bay area: There are a few things to do here. First, go up to the observation deck of the Marina Bay Sands, which offers a spectacular view of the Singapore skyline and the port area. An alternative is to ride the Singapore Flyer also located nearby which offers a similar experience. There is also the Gardens by the Bay, which allows visitors to enjoy a really fascinating and vibrant gardens in the heart of the city.
2. Sentosa Island: Resorts World Sentosa on this island is one big attraction on its own, with Universal Studios theme park and an aquarium being really popular. There are many other attractions on the island too, including, of course, the beach.
3. Singapore Zoo: They are a renowned rainforest zoo, featuring many animals in their natural habitat space, including the very popular orangutans. Next to the zoo is also the River Safari and Night Safari. Park hopper passes are available to allow visitors to visit all three parks.
---
Food is a must do in Singapore. Food markets like Old Airport Road, Bukit Timah, Duman and Beo Crescent. Coffee shops like 22 Bgain.
I love to go for foot reflexology and full body massages at OD Wellness located at Neil Road and East Coast Road as well as Le Spa at Gemmill Lane and Bukit Timah. An occasional head and hair spa is great for those with hectic workload. Places like Shunji Matsuo and The Comb Studio.
Singapore may be small but 9you can find many outdoor activities. One of which is cycling at East Coast Park and Homerun Baseball (Singapore's first indoor baseball pit). I enjoyed prawning, crabbing, fishing at Pasir Ris Pond too.
---
1. Avoid the touristy spots for overpriced seafood and instead catch your own prawns. Prawning farms are available around the island and you get to catch and then barbecue the prawns. They'll definitely taste better than any you can order in restaurants.
2. Because Singapore is such a small island, people don't expect us to indulge in activities like horse-riding. But it IS available in Singapore. There is one such place in Punggol where you can learn to ride a horse.
3. We also have A LOT of cafes in Singapore, with new ones sprouting up almost every other week. There are some cool ones you can check out during your trip. I've recently been to Selfie Coffee, in which you can get your photo printed on your coffee (the foam, actually).
---
Being a foodie like myself, one of the best things I enjoy doing in Singapore is obviously trying out the huge different array and cuisines of food ranging from cafes, restaurant to even simple hawker fare. Singapore is a country where people of mixed ethnic and culture come together as one in harmony thus resulting in so many delicacies in our country!
Second best thing to do is of course explore the different sites and or areas of this small city, be it discovering new unique sights or sight seeing, there are plenty touristy attractions in Singapore. Some examples are the Singapore zoo, one of the world's best, we even have night safari, river safari, sea aquarium, universal studios and many other places worth traveling to! Even staying at the scenic marina bay sands is pretty awesome as it has views covering many pretty sights like the Singapore flyer which lights up in different colors at night.
Last but not least, the nightlife in Singapore is pretty lively as well, we are home to one of the best clubs in the world, Zouk, I used to really frequent there in my teenage years like maybe a year ago? (Hahaha.) Many more areas like clarke quay, Robertson quay and the list goes on, opens till late and makes the perfect place to chill with some drinks as the number of bars/clubs in the area is uncountable as well. The night can be ended with supper which is also one of the things I personally like to do living in Singapore.
---
1. Check out the heritage locations at Chinatown, followed by restaurants and bars at Ann Siang Hill
Chinatown is an interesting mix of Chinese and Indian - there are the two biggest temples located in this area, and culturally it's a feast. There's also lots of good local food options in the food centres at Chinatown, and for something more upscale, head to Ann Siang Hill. I recommend Lolla there for dinner!
2. Go to Gardens by the Bay
It may sound like a cheesy tourist thing to do, but this venue is really beautiful and a sight to be reckoned with, especially the Cloud Dome - head there early in the morning for some beautiful mist shrouding the megatree/ waterfall structure.
3. Go chill out at a Rooftop Bar
I'm a regular of cocktail bars, and my favorite is actually Potatohead Folk, a 3 storey burger joint and cocktail bar, featuring two levels of bars of different concepts, with quirky interior decor. The rooftop bar of Potatohead usually plays Latin/ Rumba kind of music, mimicking a rather South American vibe. Really chill!
I also recommend Lantern Bar, Level 33 and Ce La Vi for amazing views of the Singapore skyline, which is my absolute favorite view to just chill and thing about life.
---
1. Chinatown
Located at the centre of Singapore, Chinatown is a bustling street and an attraction for tourist and it is filled with traditional shops and night markets as well as cool stores and cafes.
2. Visit Singapore Zoo
Known as the Singapore Zoological Gardens, it is one of the main tourist attractions as there are up to 40 different animals. Our iconic symbol was the Orangutan, Ah Meng.
3. Take #OOTDs in Singapore
Instagram worthy pictures? Stand in the middle of Orchard Road and take a picture of your #OOTD. Even though the weather is hot in Singapore, but I'm sure that when you're overseas, your shots will be amazing.
---
Do not miss S.E.A. Aquarium at Resorts World Sentosa, especially the jellyfish display which is a magical, captivating experience.
Kinki rooftop bar offers a great vantage point of Marina Bay and the evening fountain shows, I prefer having drinks and taking in the view from here because it's not too crowded and most nights the DJ spins friendly danceable beats.
Chicken rice, being Singapore's unofficial National Dish, is a must and even though everyone has a personal favorite, mine can be found at the basement food court inside Katong Shopping Center. I highly recommend it, and be prepared for a queue.
---
1. EAT - From cheap street food to fancy restaurants, Singapore is an amazing melting pot of great food, thanks to the cultures converging here.
2. Visit all the multi-cultural enclaves - Little India, Chinatown, Katong, Geylang Serai, Arab Street, and even pockets of Thai, Vietnamese and Filipino communities
3. Check out the various museums - They are increasingly world class, and I hate using the word "world class" but they really are getting very good.
---
1. Eat hawker food such as Hokkien mee, char Kway tiao, carrot cake etc
2. Grab a drink along Ann Siang Hill
3. Check out any flea markets or festivals available during the time you're in Singapore
These aren't the conventional stuff like going to the zoo or Sentosa because I assume you'd have gotten that a lot. So I tried to give you more of what Singaporeans do.
---
1. Eat local at Old Airport Road Food Centre
If a someone suggests taking you to Lau Pa Sat for authentic Singaporean food, run far far away. Singapore is a food haven - no tourist should leave Singapore without visiting a hawker centre. My favourite is the 40-year-old Old Airport Road Food Centre, one of our largest with over 150 food stalls. Top picks include Hokkien Mee (fried prawn noodles), Pisang Goreng (banana fritters), Chai Tow Kway (fried radish cake - we call it carrot cake) and Wanton Noodles (pork dumpling noodles with bbq pork). There's also a really good vegetarian cooked food stall. Order to share! Prices: Cheap - $3 to $4 for an average main dish.
2. Visit Universal Studios Singapore
I don't usually go where the masses go, but you cannot miss Universal Studios Singapore. I don't really care for the rest of our parks although I can see why they're popular. But Universal Studio tops my list of all theme parks in Singapore. You can easily spend a day here and find it hardly enough to enjoy all the rides, attractions and magic the park has to offer. If you're hungry from all the fun, KT's Grill serves really, really good food - a great experience.
3. Go on an old school bakery trail
Old school and me go together like buttercream and cakes. Many heritage bake shoppes in Singapore are being taken over by modern hipster cafes and imported bakery chains. It's a shame. Visit these gems while you still can. Typical old school bakes include rum balls, custard puffs, scones, cream horns, apple pies, chicken pies and buttercream cakes, though they're not necessarily all in one place. Recommendations:
- Chin Mee Chin Confectionary
204E East Coast Road, Singapore 428903
- Dona Manis Cake Shop
Katong Shopping Centre, 865 Mountbatten Road, B1-93, Singapore 437844
- Balmoral Bakery
105 Clementi Street 12, Singapore 120105
- Ng Kim Lee
4 Chun Tin Road, Singapore 599591
- Pine Garden's Cakes
529, Ang Mo Kio Ave 10, #01-2369, Singapore 560529
Many of these bakeries are located in housing estates, so apart from eating, tourists can take a peek into how locals live. Chin Mee Chin is located near Joo Chiat, another heritage haven, and Balmoral Bakery is in Sunset Way - google about the abandoned railway tracks nearby that we locals like to explore!
---
1. Eat local food at one of our hawker centres
Singapore is a food paradise and there's no better way to eat all our local delights than and visit one of our hawker centres and eat like a local. I personally recommend trying chicken rice, hokkien mee, laksa, char kuay teow, yong tau foo, nasi lemak etc.
2. Walk along the Singapore River
It's one of my favourite places in Singapore and there's tons of exciting things to explore and eat all along the river. Areas you can concentrate your walk on are at Boat Quay, Clarke Quay, Robertson Quay and Marina Bay.
3. Hunt for our street murals
Like Penang, we have many interesting street murals that decorate the walls of our buildings. Some tell parts of Singapore's history while others depict the artist's whimsical mind. You can find street murals at areas like Bras Basah, Kreta Ayer, Queenstown etc.
---
1. Eat: You name it, we got it. From Singapore's local delights to Chinese Dim Sum, Italian gourmet, French cuisine, Thai street food, Malay Fare, we've got everything and anything, as long as you know where to find it.
2. Shop: Singapore's a shopping haven. While many countries have problems with luxury goods authenticity, you won't have to worry about that in Singapore as long as you are shopping along the Orchard Road belt or in Shopping malls.
3. Get lucky at Marina Bay Sands and/or Resort World Sentosa's casino. Singaporeans are required to pay $100 entrance fee, but if you are visiting Singapore, you get to enter and try your luck for free!
Other stuff: Try around town cycling in Singapore's park which are interconnected via Park Connector Network.
---
1, Eat! This is one of the few first things that comes to mind whenever Singapore is mentioned. As a multi-racial country, we are very privileged to be granted the rare opportunity to try out a wide array of food, ranging from delicious Fried Hokkien Noodles, to famous Bak Kut Teh, to mouth-watering Roti Tosai and scrumptious Nasi Lemak!
2. Shop! Ranging from dirt-cheap items at Bugis Street to luxurious goods sold at Orchard Road, Singapore provides everything an avid shopper can ever desire! The best thing is, they are located within the same vicinity – at the heart of City Singapore.
3. Heritage! Drop by our historical sites, especially if you love history. Although Singapore is a relatively young country with a short history, we have clinched many titles and awards, proving ourselves to be one of the best and well-developed countries. Such commendable track records are definitely worth noting!
---
1. Eating Chili Lobster at Pince at Pints
There's tons of people who would recommend Chili Crabs in Singapore, but not everywhere offers Chili Lobster - especially not ones as fresh and juicy as those at Pince and Pints. The Chili sauce is thick, sweet and extremely flavorful, and it could give those other high-end chili crab restaurants a run for for their money.
2. Checking out cafes and shops at Tiong Bahru
Though most of Singapore is cosmopolitan, Tiong Bahru is a sweet area in Singapore which has tiny cafes and independent shops with interesting knick knacks and clothes made by overseas designers.
3. Take a Museum tour around Singapore
There's many types of museums in Singapore; ranging from the Peranakan Museum to the Philatelic Museum. Some have really exciting events going on sometimes. They're worth a trip down to because of their exploration of Singapore during its simpler times.
---
1. Enjoying the night lights around Marina Bay because Singapore is most beautiful twinkling in the cool night air.
2. Experience several different cultures in a single day by visiting popular ethnic enclaves like Chinatown, Little India, Kampong Glam, Joo Chiat among others via the MRT train.
3. I'd also suggest eating at outdoor hawker centres popular among the locals: check out apps like hungrygowhere, Yelp Singapore or Burple to get started with recommendations or follow the long queues.
---
1. Escape the heat by visiting Garden's By The Bay to enjoy seasonal theme floral display at Flower Dome and concrete jungle at Cloud Forest.
2. Experience Singapore food culture with a visit to Hawker Center (non air conditioned food centre) in Maxwell Market or Hong Lim Food Centre. If you like seafood, I strongly recommend Jumbo at East Coast Seafood Centre for Singapore famous black pepper crabs and chilli crabs.
3. Get your shopping done in Mustafa Shopping Centre. They are open 24 hours, so you can go at anytime. If you prefer big brands, of course you can't miss our famous Orchard Road.
---
1. Experience how multiculturalism is celebrated in Singapore reflected by food, places of worship and streets! Visit heritage places like Chinatown, Little India, and Kampong Glam!
2. Escape from the busy city life to the world's first wildlife night, Singapore Night Safari! Hop onto the night tram to set foot in 8 geographical ares such as Himalayan and Africa to catch over 1000 animal such as lions, tigers, and more in action!
3. A must visit is the newly honoured UNESCO World Heritage Site, Singapore Botanical Garden! It is one of three gardens, and the only tropical garden, to be honoured as a UNESCO World Heritage Site! The 156-year-old tropical garden is located at next to Singapore's main shopping area, Orchard Road.
---
1. Have a feast of the various cuisines
As a multi-cultural city, there are endless food choices. One should check out one of the popular food centres like the one at Old Airport Road or Chinatown Market and order dishes from the different stalls there.
2. Visit the Singapore Zoological Gardens
This multi-award winning zoo is definitely a must-see!
3. Visit a local neighbourhood
Take a train to one of the housing estates and have a walk around the neighbourhood. Some estates to look at: Tampines, Ang Mo Kio, Toa Payoh.. Check out the stalls, the people, the apartments and the general lifestyle of a Singaporean.
---
1. Hike Bukit Timah, which has easy (30 min) to moderate (3 hours) routes, to observe the natural fauna and flora of Singapore.
2. Picnic at Botanical Gardens which is bidding for World Heritage Site status. Best to do it when there is a free concert, usually at the end of the month.
3. Visit Chinatown, where the best street food and fine dining restaurants sit side by side.
---
I say you should go try our hawker food, explore the heartland neighbourhoods, and sign up for cultural tours if you come to Singapore!
---
If it's the first time you are visiting Singapore, you should visit Sentosa, where there's plenty of activities such as wave boarding, visiting Universal Studio Singapore, visiting Madame Tussauds Wax Museum and Trick Eye Museum. As it is a tourist spot, you can visit many tourist attractions if you are on a tight schedule.
However, if it's not the first time you are visiting Singapore & have already visited most of the tourists spots like Singapore Zoo, River Safari and Gardens by the Bay, you should visit Haw Par Villa and various museums in Singapore which are mostly free! Café-hopping is currently trending in Singapore, so remember to check out at least one animal-petting café before flying back!
---
If you have an interest in unique gifts or artisanal wares, then you should plan to visit the very prominent market held at the Red Dot Museum Singapore. This very popular, once a month night event event boasts many local talented artists and designers from the island, marketing their original creations under one roof. There's even live performances from homegrown musicians as you browse!
Another similar market to visit would be the Public Garden Market. Unlike the earlier market I mentioned, the Public Garden Market has no fixed venue where they hold their event, though judging from their past events, it is mostly held in the city area. Their market runs on a regular basis, supporting small businesses, featuring a wide variety of products ranging from vintage to fashion to homeware. What is interesting is that their market has attracted international vendors from as far as Milan and you can also look forward to craft workshops hosted by them. Admission is also free.
Lastly, you should also not miss visiting our very own state of the art, Singapore ArtScience Museum - the world's very first museum that is known as "the museum that celebrates creativity, the processes at the heart of art and science, and their role in shaping society." There are 21 galleries to explore, spanning across 50,000 square feet. Singapore ArtScience Museum also hosts major international touring exhibits. Some of their exhibits are free.
---
If you're traveling to Singapore for the first time, a must-do is "dining like a local", which is essentially exploring the diverse array of food options at the bustling hawker centres. Hawker food is inexpensive, and you can't find the same experience anywhere else in the world. Try Maxwell market in the city, or Old Airport Road Market (easily accessible by train from the city). Next, step out of your comfort zone and put aside the list of "tourist attractions"; explore the neighbourhoods outside of the city and you may discover interesting sights and bargains. Toa Payoh and Ang Mo Kio for example are bustling old towns filled with vibrancy. Furthermore, considering the size of Singapore, the suburbs are 15 to 30 minutes drive away from the city. Finally, look into social media (Instagram/Twitter/etc.) for the latest or trendiest places to go. There are many activities and events going on all year round. Check out the relevant hashtags such as #Singapore and #Sgfood for instance.
---
I recommend these top 3 things to do in Singapore.
In the morning, visit the beautiful flora and futuristic looking Gardens by the Bay.
In the afternoon, head down to Somerset area for plenty of lunch and shopping options.
In the evening, enjoy Singapore's night life with friends over drinks and music at 1Altimate, located at the top of 1 Raffles Place.
---
Here are my top 3 things to do in Singapore
1. Plan a day and a picnic at Gardens by the Bay. Cool off in the day in the air-conditioned Flower Dome or shady Cloud Forest before packing a simple picnic and relaxing in the amazing Super Tree Grove on their open grass area. Voila, a perfect family day out!
2. If you're in search of some local hawker grub in the middle of the night, head to Bedok 85 Food Centre for some scrummy Bak Chor Mee, Grilled Chicken Wings, Sambal Stingray or Oyster Pancake all washed down with a huge sugarcane juice and finished with a bowl of peanut and sesame glutinous rice balls from Ah Balling Store.
3. Visit our UNESCO heritage Botanical Gardens. Pack a picnic at social enterprise and eatery Food for Thought, then stroll through the beautiful park, stopping to take a look at the graceful swans at Swan Lake, and our Orchid Garden (which in my opinion is even more glorious and well tended to than Monet's Giverny gardens) before enjoying your muffins, burgers and whatever you packed. If you have small children, drop by Jacob Ballas' Children's Garden for a mini adventure!
---
1. Play escape games
2. Go prawning / crab catching
3. Go-Kart!
That's other than all the cafe hopping you can do (I recommend Stranger's Reunion / Curious Palette (same owner) for the best coffee (world champ) and ridiculously photogenic berry ricotta pancakes, The Daily Roundup for french styled sweet / savoury crepes and plain vanilla at tiong bahru for the best cupcakes in singapore - they have a outdoor sitting area where you can grab a drink too!)
---
1. Revel in Gardens By the Bay
Gardens By The Bay is an engineering marvel built entirely on reclaimed land and has since won the hearts of travelers and accumulated many accolades around the world.
Stroll through a 'Wintry' Christmas Wonderland, enjoy the free nightly 'Garden Rhapsody' music and light show under the lush Supertree Groves, walk the 128-meter long aerial OCBC Skyway for a panoramic view of the city, admire exotic plants from around the world in the air-conditioned 'Flower Dome' and 'Cloud Forest' Conservatories, engage your children in free outdoor water adventure play at its Far East Organization Children's Garden and enjoy a Singaporean food fest alfresco-style at Satay By the Bay! There's just so much to offer at Gardens By the Bay for the whole family. No wonder it's the top 'must-see' travel destination in Singapore!
2. Take a walk at Singapore Botanic Gardens - A UNESCO World Heritage Site
The Singapore Botanic Gardens is the first and only tropical botanic garden on the UNESCO's World Heritage List.
The Gardens showcases the best and most spectacular of tropical flora, including more than 10,000 types of plants and the region's most significant living collection of documented palms, orchids and gingers. Join one of its free guided tours and outdoor symphonic concerts for a truly relaxing way to enjoy our Garden City. You may also consider hiring one of Singapore's local photographers to have your family portraits professionally taken while you are on vacation!
3. Immerse yourself in the National Gallery Singapore
Be among the first to visit The National Gallery Singapore when it opens its doors on 24 November 2015! Converted from our former Supreme Court Building, the majestic National Gallery Singapore will manage and house the world's largest public collection of Visual Arts, Modern Southeast Asian & Singapore Art and Singapore art. To make art more accessible for everyone, the Gallery has lined up interesting programs for families and children.
Take a sneak peek at the exciting interactive art spaces planned for young ones at the Keppel Centre for Art Education within the National Gallery in our FB Album here.
National Gallery Singapore is situated right in the Civic District so after you are done with the tour, you may pop by the nearby Raffles City Shopping Center (mere 3 mins' walk away) for a nice meal and retail therapy.
---
1. Sentosa
Sentosa is Singapore's premier island resort getaway. This ain't any ordinary island but a home to many exciting array of themed attractions such as Sentosa Cove, Universal Studio, Underwater World,South East Asia Sea Aquarim and many more , award-winning spa retreats, and resort accommodations alongside lush rainforests and sandy beaches. Only via Sentosa, you can reach and stand on the Southern most tip of Continent Asia. Popular attractions among business and leisure visitors include Wings of Time – an award winning night show, the iconic Sentosa Merlion, as well as Madame Tussauds Singapore.
2. Light Shows in Singapore (Marina Bay Sand & Gardens By The Bay)
Immerse yourself in Wonder Full – an amazing convergence of light, music and sound, the Southeast Asia's largest light and water show. Be a witness to the stunning 10 to 15 minutes extremely gorgeous life arts and display of visual effects by the waterfront, where the tale of the life journey is told through the use of electric light and laser effects. A great treat for our senses after a sumptuous dinner in the city. The Wonder Full Light & Water Show is awarded with the Pacific Asia Travel Association Gold Award. I would say, a must-do if you are in Singapore.
After the 8pm show, the show will end by 8.15pm, walk across the road to Gardens by the Bay for another spectacular night light show. The OCBC Garden Rhapsody. Be mesmerised in the stunning forest of giant metal trees at Gardens by the Bay at night, when the structures light up in a rhapsody of colours to the sound of music that fills the entire park, you experience a surround sound experience from wherever you stand due to the work of over 50 speakers around the area. It really is the size of the 'Supertrees' that make this sound and light performance so impressive, towering above you at up to 50 metres tall. The show lasts almost 15 minutes,
3. 1-Altitude Bar
The 1-Rochester group has always been giving Singaporeans unique dining experiences and one of my favourite offering is the 1-Altitude. Perched on the 61 to 63 floors of the OUB Centre is the highest alfesco bar in the world. 1 Altitude, a multi-experience lifestyle joint that brings golf to alcohol, which includes a golf simulator in a sports bar. Whenever I have a visitor, this is a never missed spot that I will bring my friends to, I should said I never failed to impress them about Singapore with a visit to 1-Altitude bar.
---
Shop, eat and relax. That might sound like a cliche answer to the top things to do on a holiday, but Singapore has so much to offer that sometimes it's the simple things that count and it's sure to find a special place in your heart. There are dozens of malls catered to different people so plan well and avoid Orchard road during the weekends if you want to steer away from the crowd. With all that walking, your sure to build up an appetite so make room for the large array of cuisine choices. My best meals in Singapore so far have come from popular food courts where you get the real taste of authentic culinary tradition. Finally, do spend some quality time on the beautiful Sentosa Island to get some rest and relaxation.
---
That really depends if you want to "been there done that" or "do something uniquely Singapore"
BTDT
1. Singapore Botanic Gardens. Recently honoured as an UNESCO World Heritage Site, Singapore Botanic Garden boasts the largest collection of orchid species (1000 species / 2000 hybrids) in the world. You'll also be able to see orchids dedicated to celebrities and dignitaries around the world such as Princess Diana and Michelle Obama.
2. Singapore Zoo. The Singapore Zoo is a nine-time winner of the coveted Best Leisure Attraction Experience award by the Singapore Tourism Board. Eventhough it is located at the equator, it boasts of animals from all over the world such as the panda, koala bear, penguins and polar bear. Best of all, a visit to the Singapore Zoo can be highly educational with fun facts all over the park for the kids.
3. Orchard Road. After a $40 million revamp in 2009, Orchard Road is again undoubtedly one of the top shopping belt in the world. Take a stroll along Orchard Road and revel in the comforting joys of retail therapy!
Uniquely Singapore
It must be the cultures of Little India, Chinatown, Kampong Glam which cannot be found in anywhere else in the world. While you're at it, enjoy foods from all cultures. As a melting pot of food and cultures, Singapore offers an unbelievable array of food from the man-on-the-street hawker foods to celebrity restaurants across the island.
---
Singapore is a food haven, so never leave this tropical country without trying our famous Chicken Rice, Chilli Crab, & Durian if you're adventurous enough. Have a fun-filled day at Sentosa Island where you can dine with the fishes at Ocean Restaurant by Cat Cora™, or visit the Underwater World and Dolphin Lagoon where you will get to feed gentle rays and sharks. Don't forget to stop over at Gardens by the Bay to catch the unique trees of up to 16 storeys in height at the Supertree Grove!
Next, head on to our popular shopping street at Orchard Road where you'll get to shop till you drop be it designer labels or affordable brands. If you are tired after your retail therapy and badly in need of beauty treatments, simply quote LUXURY HAVEN for your special reader's price at Georgina's Salon, EHA Clinic (Aesthetics) and Rexults medSpa, all located in the heart of Singapore's shopping belt!
---
There are many interesting things to do in Singapore, but if you're traveling with kids, the top three things to do (in my opinion) would be:
1. Singapore Zoo / River Safari / Night Safari
Our zoo is really beautiful, and there's a fun water play area for kids too. Apart from the animal exhibits, my son also enjoys the pony ride at the children's area. If you don't have much time, the River Safari is smaller and can be easily covered in a few hours. It's also mostly sheltered, so you can visit it even if it rains. If your kids don't sleep early, the Night Safari is an interesting experience, and you can go on the tram ride if you don't want to do too much walking.
2. Gardens by the Bay
The themed exhibits change quite regularly, and are really pretty. The super trees are simply beautiful at night, and the large empty spaces are good for children to run/scoot around.
3. Sentosa: SEA Aquarium / Luge
The SEA Aquarium is quite spectacular though it can get really crowded. The Luge is quite popular with thrill-seekers, and older children will enjoy zooming down the racecourse on their own.
---
1. Stay in one of the premier suite rooms at Ritz Carlton and enjoy a deep soaking bath while admiring the view overlooking Marina Bay.
2. Clubbing at Ku De Ta.
3. If you have children, do take them to one of the indoor playgrounds in Singapore.
---
My top 3 things to do in Singapore are:
1. Take a boat down the Singapore River to enjoy the sights of the city. Make sure you spot icons such as the Merlion, Marina Bay Sands, and the Singapore Flyer.
2. Enjoy authentic hawker favourites like hainanese chicken rice, rojak and fried hokkien noodles. You'd be able to find these in most hawker centres, but you can try Lau Pa Sat or Chinatown.
3. Pack a picnic and enjoy it on the green lawns of the Botanic Gardens – now listed as a UNESCO World Heritage Site.
---
1. Take a stroll around the atmospheric ethnic quarters of Chinatown, Little India and Kampong Glam for a sample of the country's renowned diversity.
2. An early morning jog at the Singapore Botanic Gardens which has recently been declared a UNESCO World Heritage Site to appreciate just why Singapore is known as the Garden City.
3. Take in wonderful views of the city skyline from one of the many rooftop bars around the downtown area. Venues such as Lantern, Level 33 and Ku de Ta at Marina Bay Sands are excellent choices.
---
The top 3 things is to just relax at Tanjong beach club as they make lovey mojitos and its also the best place to people watch or read a book .
My favorite walk to do is Hendenson wave Walk. Something about Singapore and its parks connectors is that you can basically walk the entire country , if u are ambitious.
My third activity is the amount of cafe hopping you can do and finding one that offers healthy food option. My all time favorite is marmalade pantry at fairway drive as after you can choose to ride a horse or just feed the ponies!
---
Tourist Point of View
1. Universal Studios Singapore
2. Visit Gardens by the Bay
3. Night Safari
Local Point of View
1. Shopping along Orchard Road (avoid Sunday)
2. Cafe hopping
3. Visit Haji Lane in the afternoon
---
1. Try The Local Hawker Fare [Dining]
There are many dining options in Singapore and there are many different types of cuisines that are available. From Chinese food, Korean food, and Japanese food, there are also Mexican food, Mediterranean food, and many others. But apart from all these dining options, the local hawker centre is definitely the place for local food which are great tasting. Food not to miss out are the chicken rice, laksa, prawn noodles, rojak, roti prata, and ice kachang.
2. Visit Sentosa Island for Fun and Play [Entertainment/Attractions]
Sentosa Island is a very nice place for chilling out. Whether it is sun-tanning by the beach or visiting the Universal Studios, there are many activities that one can do at Sentosa Island. Some of the recommended activities could be going on the cable car for a breath-taking view, going to iFly for some indoor skydiving adventure, or going on the Luge ride.
3. Shopping
With shopping centres all around Singapore, shopping is quite an enjoyable hobby for the locals. For luxurious and branded goods, visitors can check out Orchard Road where they can find brands such as Chanel, Gucci, and the likes. For really affordable items, visitors can also check out the 24-hours Mustafa Shopping Centre.
---
I'd recommend trying chilli crab at jumbo seafood and hainan chicken rice at loy kee. Gardens by the bay. And Sentosa's nice to spend some time at for Universal Studios and Underwater World.
---
My 3 things to do in Singapore:
Trying out the local food at Chomp Chomp, Serangoon Gardens. They offer a wide variety of food such as Malay food like Ayam Penyet, Indian food like Rojak, Prata, Murtabak and Chinese food such as Hokkien Mee, Chicken Rice, Bak Kut Teh and even Barbeque food.
2. Checking out the night scene at Clarke Quay. There are various bars and clubs there. There are themed bars and clubs in the area and lots of good local food if you are feeling peckish after!
3. Visiting Gardens by the Bay. One of Singapore's latest attractions. Gardens by the Bay is Singapore's largest park and hosts a great number of beautiful gardens. They also host events from time to time especially during festive seasons.
---
1. Visit either the National Museum or the new National Gallery. Both are stunning architectural sites, the latter of which will only be opening next month. The former has just re-opened its permanent galleries and can give visitors a wonderful sense of Singapore's history and cultural history. The latter, built in what used to be our Supreme Court and City Hall buildings, is stunning. The collections as well, overseen by brilliant curator Dr Eugene Tan, should be fabulous. Definitely the must-do stops for anyone looking to feed their cultural appetites.
2. Speaking of appetites, my second recommendation is to experience our diverse culinary scene. That means trying both our street food but also dining at newer, hipper, and more up-market establishments. For a true taste of Singapore, I'd recommend a kaya toast and soft boiled eggs breakfast at a branch of Ya Kun or Killeney Kopitiam; a visit to Maxwell food court or Lau Pat Sat for some hawker food; a late dinner at the famous crab bee hoon, al fresco restaurant Sin Huat Eating House in Geylang; a meal at one of our moderately priced, hipster restaurants like Ding Dong, Burnt Ends, Artichoke, Cure, or Open Farm Community; another meal to try Peranakan flavours at Candlenut; a meal at a Modern Singaporean restaurant, either Wild Rocket or Labyrinth; and one last blow out dinner at one of our star fine-dining places, such as Andre, Odette (opening soon), JAAN, Les Amis, Tippling Club or Waku Ghin.
3. While I know my third choice is really, really touristy, I have to admit I am a huge fan of both our Zoo and our Night Safari. So, my third must-do here is to visit one of these. Both are exceptionally well-run and the way in which animals are housed and showcased is as ethical as you can get for a zoo. If you're an indoors, air-conditioning kind of person, then I would recommend our Aquarium, on Sentosa, which is also excellent. I have family memberships at both the Zoo and the Aquarium and my kids never tire of visiting these places.
---
Funny you might ask that question because I've recently just compiled a list of things to do in Singapore if you're faced with a 48-hour layover.
You can read my article here
http://anymap.co/best+things+to+do+during+a+48-hour+layover+in+Singapore
But that's just the main gist of it all, if you ask me, it's imperative that you eat like the locals, with the locals, making sure to experience the mortarboard of local cuisine at renowned hawker centers such as Tiong Bahru Market.
---
1. Visit Sentosa
Sentosa is filled with activities for everyone of all ages but the best things to see and do are the S.E.A. Aquarium, iFly, Universal Studios Singapore and Tanjong Beach Club. Visiting all four spots will take you up to a day or two, as you'll be spending the rest of your time just travelling between these destinations, taking photos for memory's sake and filling your tummies with the fare whipped up by the myriad of restaurants.
2. Go on a cultural trail and end the day with some indie shop exploring
Find out more about the different cultures that make Singapore so unique. Spend the day in Chinatown, Kampong Glam and Little India, and be sure to try out specialty food from each neighbourhood – you won't find these at home. Start with Chinatown, followed by Little India and then Kampong Glam. End the day with a stroll along Arab Street for a little Middle Eastern adventure and Haji Lane to check out the local fashion and café scene.
3. Check out the Bay
Spend an afternoon at the Gardens by the Bay for some nature loving. Make sure you enter the Flower Dome and Cloud Forest to find out about the types of plants you can find in other parts of the world, such as South America and Africa, and also to experience the world's tallest indoor waterfall. Come sunset, base yourself along Marina Bay for a spectacular view of the skyline. Stay a little longer to catch Wonder Full, Asia's largest light and water show by Marina Bay Sands at 8pm or 9.30pm.
---
1. Visit Sentosa
Sentosa is Singapore's favourite leisure island, home of Universal Studios Singapore and Madame Tussauds Singapore. The Skyline Luge is a hot favourite for visitors young and old, so be prepared for long queues, as once is never enough!
2. Get High
I mean literally. Head to the Marina Bay Sands Skypark for a breathtaking view of Singapore skyline. Or take the Singapore Flyer observation wheel for a leisurely ride. Enjoy a romantic meal at the top of Swissotel The Stamford with a number of internationally-acclaimed restaurants like Jaan, Equinox, New Asia.
3. Shop Along Orchard Road
Your visit to Singapore will not be complete without visiting Orchard Road, the premier shopping belt. Most of the malls have been upgraded, many rebuilt in recent years, to enhance your retail experience.
---
1. Visit the Family attractions like Universal Studios and Singapore Zoo.
2. Shopping at Orchard road or visiting the Factory outlets at IMM where you can get discounts on Coach, Guess, DKNY, Timberland and many other brands.
3. Besides the food, if you want to understand the History of Singapore, visit Images of Singapore at Sentosa. Interactive discovery of how our island has developed into a City State.
---
1. Visit the local hawker center and sample local delicacies like fried carrot cake, fried kuey teow and chicken rice
2. Blend into the nature, catch some fresh air and take a stroll in the Flower Dome and Cloud Forest at Gardens by the Bay. Not to miss the Garden Rhapsody light and sound show at night!
3. Singapore very own version of night market at Bugis Street. Ranging from street food to fashion, it's a one stop venue for all to visit if you enjoy budget shopping.
---
1. Visit The National Museum of Singapore
Our founding father Mr Lee Kuan Yew is well respected and love by all Singaporeans. Visit this museum to find out how he build up a slump to this modern city in a short span of 50 years, at the same time understanding a bit of Singapore history to make your trip to this little red dot more meaningful.
2. Visit the Botanic Gardens
If you are a nature lover, you can't miss our UNESCO World Heritage Site - Botanic Gardens. This vintage English style garden of 74 hectare was found in 1859, beautifully baptized by history.
There are a few beautiful old buildings and gazebos to make your camera very busy. Also unique plants and flora that may not be commonly seen.
Monitor lizards walked around like bosses here. Active squirrels hopped around, some are shy while some will greet you with squeaking noises. They are easily spoted during weekdays with lesser visitors, but will all hide away from human activities such as picnic areas.
There are also cafeterias and restaurants to fill yourself up, you won't be hungry here.
3. Visit the MacRitchie Tree Top Walk
If you need to burn of some calories after all the delicacies, instead of copping up in a gym, I bet this is a challenging and interesting way.
The trail walk is full of slopes and numerous flights of stairs. The highlight will be the 250m freestanding suspension bridge between the 2 highest points in the Central Catchment Nature Reserve.
The bridge sways a bit when you walked, but it's absolutely safe and the scenery up there is pretty breath taking.
There are many fearless monkeys around, do not provoke them, and try not to wear flashy red or bright colors to attract their attention.
How to get to this walking trail:
By Car: Park at the public car park at Venus Drive that is located beside the start of the trail.
By Bus: Take bus number 52, 132, 163, 166, 167, 855 and 980. Alight just outside ESSO station before the junction of Venus Drive, Upper Thomson Road and Sin Ming Avenue.
---
1. Walk around the Marina Bay area. The night view is unbeatable and even the locals will hang out here in the weekend. There are many bars, restaurants and sight-seeing spots around the area. The architecture around the bay is also a must-see, starting from Marina Bay Sands to ArtScience Museum to the Helix bridge to Esplanade.
2. Nature reserves in Singapore are non-touristy and worthy of a visit if you have enough of the overcrowded metropolitan cityscape. MacRitchie reservior, Punngol and Marina Barrage are a few good options.
3. East Coast area is where the Perankan heritage stands. Joo chiat and Katong are two places not to be missed and the colourful shophouses are extremely photogenic for a National Geographic-worthy moment.
---
Well, the first thing every tourists should do when they are in Singapore is to eat the local dishes at coffeeshops or hawker centres. We have variety of choices from every 4 main races in Singapore; Malay, Chinese, Indian and Eurasian. Aside from the western and european cuisine, local cuisine are the most famous ones such as the Malay food where Singapore is part of the nusantara (Malay Archipelago): Nasi Lemak, Nasi Ayam, Mee Rebus, Mee Siam, and Lontong. Secondly, is the tourist attraction in Sentosa (originally called Pulau Belakang Mati by the Malays). Sentosa have always been the best spot to have fun with family and friends like the ones at Universal Studios Singapore in Resorts World Sentosa. And the third but not the least, is Pulau Ubin and other islands (Pulau Kusu, Pulau St John, and Pulau Hantu). Singapore is a city-life but it's kinda bored when you are surrounded by tall buildings. So these are the perfect spot for a short getaways without bringing your passport. For a wild-life, Pulau Ubin is the best to go hiking, cycling, see wild animals in the forest, and of course see Malay Kampongs (Malay Village) for yourself because you can never find this now in Singapore (except for the fact that Kampong Buangkok are demolishing).
---
When in Singapore, one cannot miss the Singapore Botanic Gardens. Recently honored as a UNESCO World Heritage site, the 156-year-old tropical garden showcases stunning landscapes and more than 10,000 species of flora.
Immerse yourself in the ocean at S.E.A Aquarium, equipped with 49 different habitats housing more than 800 species of marine animals. Fancy dining under the sea? Renown Iron Chef Cat Cora's Ocean Restaurant offers a one of a kind dining experience, providing guests the opportunity to dine right next to a spectacular 18.2 million liter Open Ocean Habitat, replete with majestic manta rays.
Shopping Enthusiasts can shop till you drop at Orchard Road, Singapore's prime shopping district stretching 2.2 kilometers. For a rejuvenating break in between the retail therapy, pop into one of the many afternoon tea spots along the boulevard, such as Arteastiq Boutique Tea House and TWG Tea Salon.
---
With Merlion as the mythical symbol of Singapore it makes a list of nearby attractions such as Marina Bay Sands SkyPark and Singapore Flyer which offer breathtaking views of Singapore skyline.
A visit to Chinatown for the cheapest souvenirs, local food and heritage temples & buildings.
Or take a cable car ride to Sentosa for some adventure and fun time in Universal Studios Singapore.
---
1. The food: I strongly recommend anyone who's new to Singapore to try our hawker centres where there is a wide variety to choose from - from char kway tiao to chicken rice. Plus the price is really affordable too!
2. Visiting cultural places: Visit places like Chinatown, Little India or Arab Street where you can soak in rich cultural heritage.
3. Connecting with nature: We also have a few guided walks at national parks and our very own Sungei Buloh Wetland Reserve (Singapore's first ASEAN Heritage Park).
---
1. Eat Singaporean food (eg. chilli crab, chicken rice, hokkien mee, carrot cake, bak chor mee, lor mee, mixed rice, the list goes on and on and on) at a local hawker centre (eg. Newton Circus, Bedok 85, Chomp Chomp or any of the heartland areas like Toa Payoh, Clementi)
2. Visit Gardens by the Bay - it's a beautiful place to go for a walk, especially at night, with the really cool Avatar-like supertrees
3. Shop at Orchard Road, the entire belt is like a tourist attraction in itself, there are such huge buildings and so many things to look at and buy.
---
1. Have chili crab at blue lotus, although the version here isn't truly authentic to what a traditional chili crab is, I think blue lotus serves the best chili crab in Singapore. They do not use ketchup in the sauce, so you really get quite a bit of heat from the chilis and you really taste the aromatics in the pounded aromatics.
2. Visit marina barrage on a weekend evening. Marina barrage is one of my favorite places in Singapore, it is basically a dam and reservoir, but set on top of it is a large field with a great view of of the flyer and marina bay sands. On weekends you'll see people flying the most incredible kites, and it always helps that the area is very breezy
3. Go hawker center hopping. It's a bit like cafe hopping, but instead, you're going hunting for the best hawker food all around Singapore. Almost every hawker center in Singapore has a few 'famous' stalls, and it would be a real treat to hunt down all these stalls for a day full of great food.
---
1. A visit to Singapore's last surviving kampong - Kampong Buangkok is a must, if you want to have a peek into what Singapore looks like 30 years ago, before it became the urbanized Singapore that we have now.
2. Singapore is known for our multi-racial and multi-cultural society, so a visit to Chinatown, Little India and Kampong Glam will give you a better understanding of how the different races co-exist peacefully and yet have distinctly unique flavours.
3. Hawker centers and public swimming pools are rather unique features of Singapore living, so those are must-visit places as well, to complete the Singapore experience.
---
I am going to be different and suggest going on a nature adventure! While Singapore may look urbanised and modern, there are a lot of breathtaking natural spots around the island if you enjoy walks with Mother Nature.
You can hike at Bukit Timah or MacRitchie Reservoir, kayak or dirt cycling at these two spots too. Or you can take a boat from Marina South Pier to the Southern Islands (St. John or Kusu) or from Changi to Ubin, Singapore's rustic paradise. There's also the newly opened Coney Island or if you're looking for more thrills, Sungei Buloh Nature Reserve is a must. Of if you're really a park lover, perhaps you want to try hunting down all the different parks like East Coast Park or Punggol Waterway Park around the island.
---
When I have friends or family visiting Singapore, I usually take them to Marina Bay Sands Skypark for a breathtaking view of Singapore skyline. Go in the late afternoon and remember to make a reservation at The Cheese and Chocolate Bar, located right next to the Skypark. It is the best place to have a decadent afternoon tea (or coffee) in town.
Another must do in Singapore is to try out all the local food. I recommend the food court in Wisma Atria on Orchard Rd. It is more comfortable than hawker center and it has almost everything under one roof.
Last but not least, Sentosa Island is always a hit with families with children - Universal Studios Singapore, Adventure Cove Water Park, The SEA Aquarium, iFLY, Butterfly Park, Port of Lost Wonder are just a few of the many many attractions on the island. Do plan to spend at least a whole day there. You can also take a stroll along Siloso Beach and settle at Coates for lunch while the kids build sand castle on the beach.
---
1. Eat local hawker food
Eating is most Singaporean's favourite past time and local hawker food is a must try in Singapore. Savour the variety of local flavours and tastes at places like Fengshan Market & Food Centre (commonly known as Blk 85 Bedok), Newton Circus Food Centre and Chomp Chomp Food Centre, etc. If you are more adventurous, be sure to go for the Sambal Stingray and famous Katong Laksa!
2. Shop at Orchard Road
Take an afternoon to stroll down Orchard Road to check out the shopping malls and latest trends. You might even end up with a bag or two!
3. Experience the garden city
Singapore is well known as the Garden City, so what better way to experience this garden in the city than visiting Gardens by the Bay and Singapore Botanics Garden. Enjoy the Outdoor Gardens and two conservatories, and soak in the rich botanical and cultural heritage at Singapore's first UNESCO World Heritage Site.
---
1. EAT @ Hawker Centres
Maxwell, Chomp Chomp and Chong Pang are pretty good options
2. SHOP @ Somerset
H&M, Forever21, Zara, Victoria's Secret, you name it, they have most of it
3. DRINK @ Cuppage Rd
Try Five or The Wine Connection, both are pretty nice places to chill out at night.
---
1. EAT. Mee pok at Simpang, Prawn Mee at Lavender, Chicken Rice at Boon Tong Kee, Prata at Jalan Kayu, Song Kee at Upper Serangoon... I can't think of any more for now. These are my local favourites.
2. Visit the domes at MBS Gardens By the Bay. I'm not a fan of nature coz of all the dirt and grime, but when it's man made and as beautiful as it is here, a city girl like me can't help but fall in love even more each time I go!
3. Drink and party at Zouk Jiak Kim before it closes down! It's my favorite club.
WOW!! This has turned out to be a gigantic post and a huge thanks to all the fantastic bloggers who contributed. Please share if you think this post was useful.
If you traveled to Singapore or lived there what are the things you would suggest? Post them in the comments below.
Adios! Sai of Romancing The Planet.