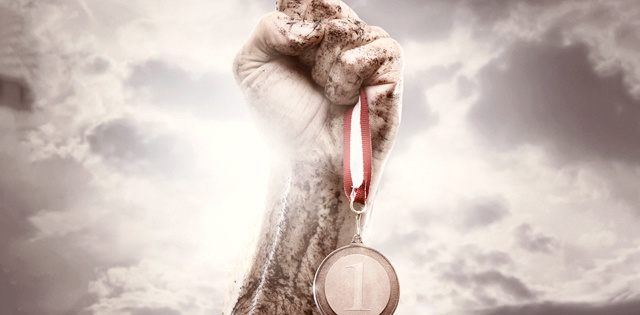 The Rio Olympics are coming to an end and the closing ceremonies are upon us. The Rio games delivered some very exciting moments. We saw old heroes rise again, while new crop of young stars that let it be known they were in Rio to win. If you have been following along, you know that winning gold in 2016 is no joke. You have to be at the top of your game in order to take home this coveted medal. Being both mentally and physically strong is important when trying to reach the top of the podium.
Music can play a big role in athletes achieving their Olympic dreams.You may have noticed many athletes at the Rio games wearing headphones as they get ready for their event. Listening to music is a fairly common practice for most athletes during training and as a part of their game day rituals.During long days of training music can help with motivation and efficiency. It can also delay fatigue from setting in, thus allowing the athlete to push harder and longer. On competition day athletes will use music to either relax or pump themselves up in order to get into the zone.
Have you ever wondered what music these athletes are listening to? Look no further. We have compiled a list of music from some of the top athletes in Rio. These athletes have risen to the top of their field throughout the games and all they've done is win.
ARTIST: DK Khaled ft. Ludacris, Rick Ross, T-Pain and Snoop / SONG: All I Do Is Win
THE ATHLETES
USAIN BOLT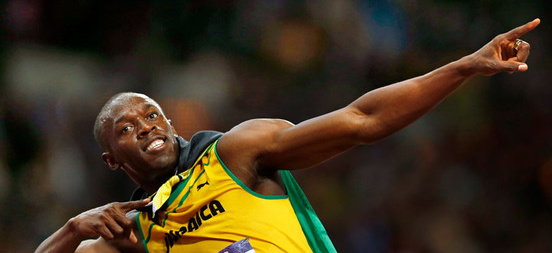 BIO: Bolt is a 29 year old sprinter from Jamaica. He is known as the fastest man in the world, holding the world record in the 100 and 200 meter sprints. Usain won gold in Rio for the 100m sprint, 200m sprint and the 4x100m relay. This is his third time winning all three events at an Olympic games.
MUSIC HE LISTENS TO: Bolt's trainer doesn't allow him to listen to music before a competition, but he does spend his free time listening to hip hop and reggae. Some of his favorite artist are Jay-z, Lil Wayne and Vybz Kartel.
SONGS WE LIKE BY ARTIST BOLT LIKES:
ARTIST: Vybz Kartel / SONG: Coloring This Life
ARTIST: Chance the Rapper ft. Lil Wayne & 2 Chainz / SONG: No Problem
MICHAEL PHELPS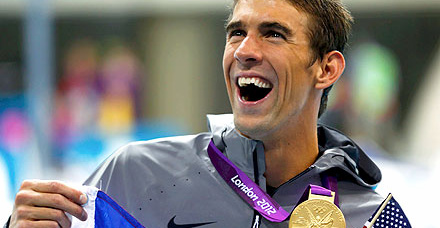 BIO: Phelps is an American competitive swimmer and probably one of the most famous Olympians ever. He became the most decorated Olympian of all time after the 2012 London games bringing his total to 22 medals. London was supposed to be his last Olympics, but retirement was short lived for Phelps. He lasted just under two years before announcing he was returning to swimming. Now at the age of 31 he has returned to the Olympics in top form. He has completed all his events and has added 5 gold and 1 silver to his already impressive collection.
MUSIC HE LISTENS TO: In a video interview with Sol Republic he says that he prefers to listen to country, hip hop, techno and house music. Usually he will listen to hip hop in the morning and then faster music in the afternoon when he heads to the pool. He enjoys artist like Steve Aoki, Afrojack, Avicii, Lil Wayne and Young Jeezy.
SONGS WE LIKE BY ARTIST PHELPS LIKE:
ARTIST: Jeezy ft 2 Chainz & Future / SONG: Magic City Monday
ARTIST: Steve Aoki & Autoerotique / SONG: ISLYM
SIMONE BILES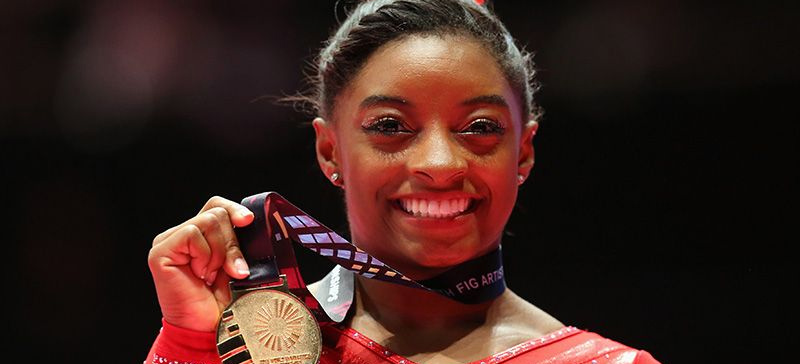 BIO: Biles is one of America's top gymnasts, at 19 years old she has already won the world all around title three times. Rio is her first showing at an Olympics and she didn't allow the pressure to get to her. She won four gold medals in the team all-around, individual all-around, vault and floor exercise. Plus a bronze in the beam event.
MUSIC SHE LISTENS TO: In an interview with POPSUGAR. Biles said that when she is feeling stressed out, she will throw on music to help her relax. Her taste in music is generally upbeat pop music and the top hits of the moment. Artist like Ariana Grande, Justin Bieber, Selena Gomez, Alessia Cara and Zayn are often found on Biles playlists.
SONGS WE LIKE BY ARTIST BILES LIKES:
ARTIST: Avicii ft. Ariana Grande / SONG:Roads
ARTIST: Alessia Cara / SONG: Here
MAX WHITLOCK
BIO: Whitlock is a 23 year old gymnast from Great Britain. He made his Olympic debut in London 2012, where he won two bronze medals. In Rio he has made history by being the first British gymnast to win gold in men's floor routine and then shortly after another in pommel horse. He also picked up another bronze in the men's individual all around. His performance in Rio will safely secure him as one of the greatest Olympians to come out of Great Britain.
MUSIC HE LISTENS TO: Whitlock usually trains for seven hours a day, six days a week. While training in the gym he often listens to Drake, Wiz Khalifa and Odd Future.
SONGS WE LIKE BY ARTIST WHITLOCK LIKES:
ARTIST: Samiyam & Earl Sweatshirt (Member of Odd Future) / SONG: Mirror
ARTIST: Wiz Khalifa / SONG: So Much
ANDY MURRAY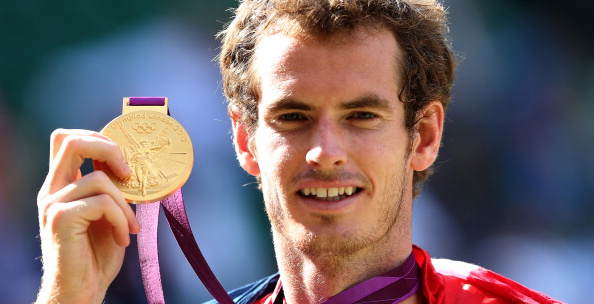 BIO: Murray is a tennis star from Glasgow, Scotland. He has been playing professionally since 2005, but didn't become a household name until the 2012 Olympics when he won gold. After that he went on to win the U.S. open. He returned to Rio with the intentions of defending his title and he did just that. He defeated Juan Martin del Potro 3 sets to 1 in the final and took home the gold medal again.
MUSIC HE LISTENS TO: Murray says he always listens to music before a match. He uses music to calm his nerves and relax in order to be ready to go at the right time. Murray enjoys listening to hip hop and chart topping music. He often throws on Ed Sheeran, Robin Thicke, Eminem, BEP and 50 Cent.
SONGS WE LIKE BY ARTIST MURRAY LIKES:
ARTIST: The Weeknd ft. Eminem / SONG: The Hills (Remix)
ARTIST: Ed Sheeran / SONG: Don't
ROSIE MACLENNAN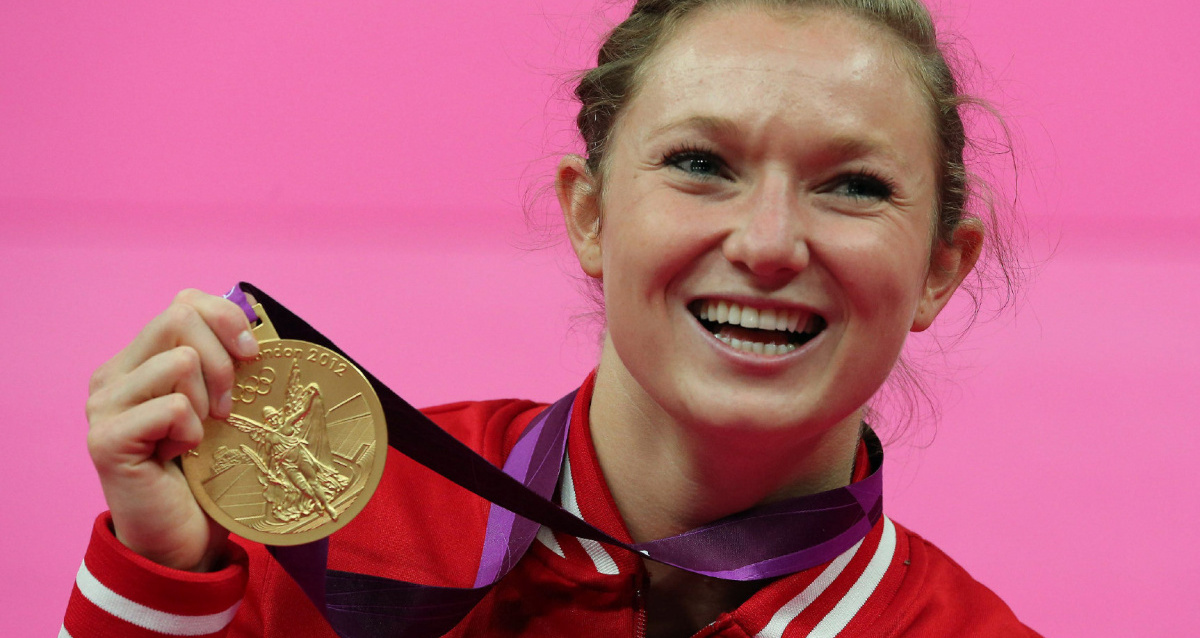 BIO: MacLennan is a trampolinist from Ontario, Canada. Her first Olympics were in 2008 in China, where she placed 7th. Ever since then she has been on steady climb to the top. She won the gold at the 2012 Olympics and followed that up with a world championship in 2013. In 2015 she suffered from two concussions, giving her very little time to prepare for the world's. She still managed to place a solid 4th. In Rio she was back in top form, managing to pull out another gold winning performance.
MUSIC SHE LISTENS TO: In an interview with CBC Radio, MacLennan said she listens to Stronger by Kanye West and Good Feelings by Flo Rida to pump herself up. In another interview she also mentioned that she really likes Jet Set by The Honeyrunners, Left Hand Free by Alt J and Flashed Junk Mind by Milky Chance.
SONGS WE LIKE BY ARTIST MACLENNAN LIKES:
ARTIST: Milky Chance / SONG: Flashed Junk Mind ( Filous Remix)
ARTIST: The Honeyrunners / SONG: Under Control
PENNY OLEKSIAK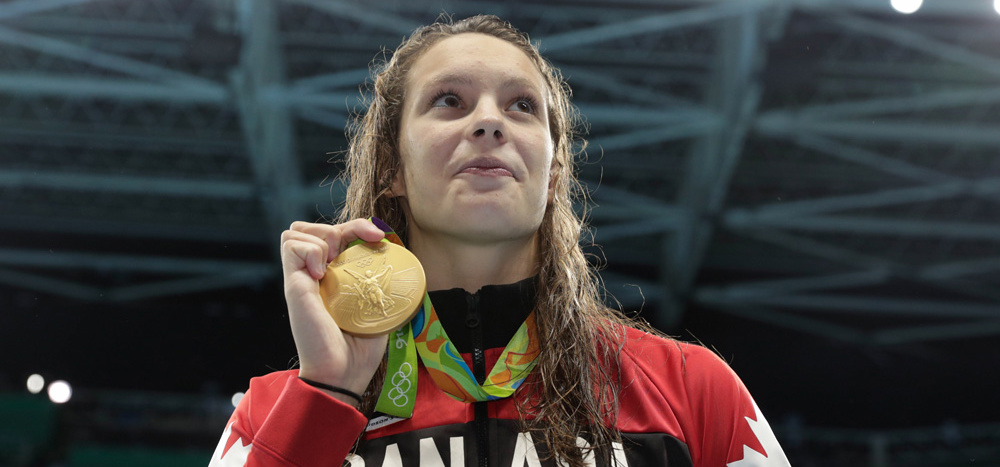 BIO: Oleksiak is a 16 year old swimmer and the youngest member on team Canada in Rio. Her age hasn't stopped her from performing at the highest level during these games. She won a gold, silver and two bronze medals in her swimming events. This makes her the youngest gold medal winner in Canadian history and the first Canadian to win four medals at a summer Olympics.
MUSIC SHE LISTENS TO: In a twitter interview with Buzzfeed Canada she said Drake's Views and Justin Bieber's Cold Waters are on her pre swim playlist. Days before she claimed Olympic fame, she tweeted about her disappointment in failing to get Drake tickets online. After winning the gold Drake is making sure that she has tickets to his concert.
SONGS WE LIKE BY ARTIST OLEKSIAK LIKES:
ARTIST: Drake / SONG: Your Way
ARTIST: Major Lazer ft. Justin Bieber & MO / SONG: Cold Water
JOSEPH SCHOOLING
BIO: Schooling was born in Singapore, but attended high school and university in America. He does however represent Singapore when competing in International swimming events. He is an multi all American swimmer and has won a bronze medal at the world championships. He made history in Rio by defeating Michael Phelps in the 100m butterfly to win Singapore's first ever gold medal.
MUSIC HE LISTENS TO: Schooling has an eclectic taste in music. Some of his favorite genres are dance, psychedelic pop and alternative rock. His spotify playlist includes Breaking Benjamin, Twenty One Pilots, Calvin Harris and Kanye West.
SONGS WE LIKE BY ARTIST THAT SCHOOLING LIKES:
ARTIST: Calvin Harris ft. Big Sean / SONG: Open Wide
ARTIST: Twenty One Pilots / SONG: Ride
KATIE LEDECKY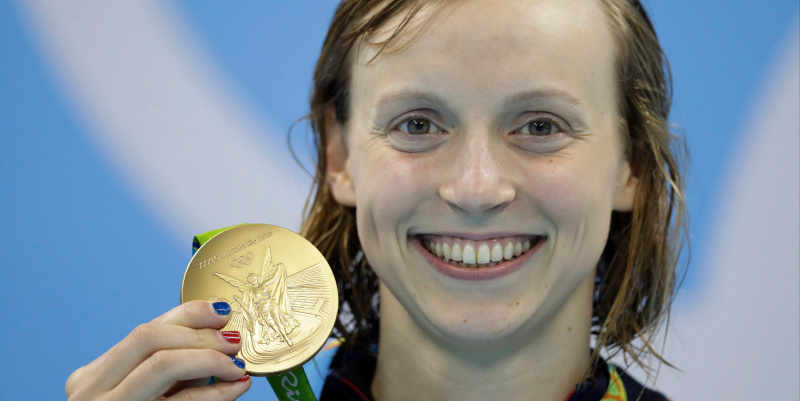 BIO: Ledecky is one of America's top swimmers and is only 19 years old. She represented the USA and won a gold medal at the London Olympics when she was just 15. She has been getting stronger ever since. In Rio she showed the world what she was capable of by winning 4 golds and 1 silver in the pool. She is the second women in history to win three individual freestyle events at a singular Olympics.
MUSIC SHE LISTENS TO: In an interview with USA Swimming, Ledecky said she mostly listens to the current hits, but her taste varies. She prefers artists like Gavin Degraw, Train , Beatles and Taylor Swift. Bruce Springsteen is also on her list, due to her dad's influence. Bruce just recently started following her on twitter.
SONGS WE LIKE BY ARTIST LEDECKY LIKES:
ARTIST: Gavin DeGraw / SONG: Fire
ARTIST: Taylor Swift ft.Kendrick Lamar / SONG: Bad Blood
SIMONE MANUEL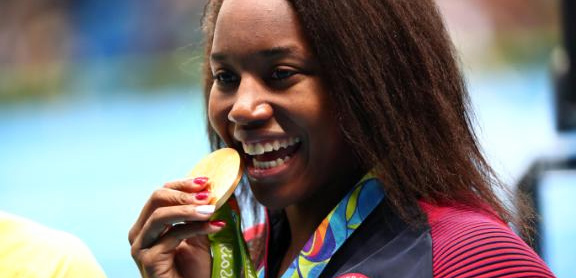 BIO: Manuel is a American competition swimmer from Sugar Land, Texas. Rio was Simone's Olympic debut. She was just hoping to get experience and swim the best she could during these games. Manuel ended up getting more than experience. She also won two golds and two silvers in her events. Her gold in the 100m freestyle was an exciting and meaningful win. She tied with Penny Oleksiak of Canada and became the first African American women to win a gold in an individual swimming event.
MUSIC SHE LISTENS TO: When Manuel is training you will find her listening to Beyonce and anything that is upbeat to keep her going. She also turns to gospel music when she is in need of some motivation.
SONGS WE LIKE BY ARTISTS MANUEL LIKES:
ARTIST: Beyonce ft. Drake / SONG: Mine
ARTIST: Beyonce / SONG: Grown Woman
TO LISTEN TO THE FULL PLAYLIST PLEASE CLICK HERE